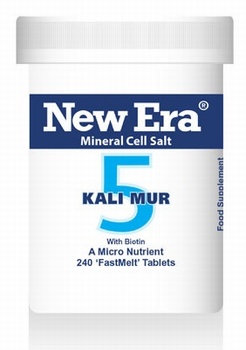 New Era No:5 - Kali Mur
Product Description
240 Tablets
New Era Tissue Salts contains triturated (finely ground) tiny particles of cell salt in, easy to take, dissolve on the tongue, 'FastMelt' tablets. These are made using processes associated with New Era for almost 90 years.

How to take:
Adults: Dissolve 4 to 8 tablets on or under the tongue 3 times per day.
Children to 12yrs: Half dosage.

* In order to increase the success of the treatment, if at all possible try to avoid taking coffee, tea, alcohol, tobacco, and mint (toothpaste, chewing gum, cough drops, etc.) during your treatment. Also avoid inhaling strong substances such as chemical products and strong detergents.

Ingredients: 6X
KALI. MUR. Potassium Chloride

Other Ingredients:
Lactose (milk), gum arabic, biotin

Allergy Advice:
For allergens see ingredients in bold
Suitable for vegetarians.

Caution:
Do not exceed the recommended dose.
Store in a cool dry place out of the reach and sight of children.
You should tip the tablets into the lid of the tub and then straight into your mouth - homoeopathic preparations are best if not contaminated by handling.