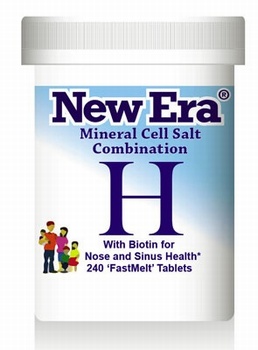 New Era Combination H
Product Description
240 Tablets
Adults: Dissolve 4 to 8 tablets on or under the tongue 3 times per day.
Children: Up to 12yrs half dosage.
(12 tablets provide provide +9.5ug of Biotin* (Vitamin H) (19% Reference Intake)

Combination H can be taken all through the hayfever season. When your symptoms, and the pollen count start decrease, you can gradually tail off the dosage.

Ingredients:
Mag phos (magnesium phosphate)
Nat mur (sodium chloride)
Silica (silicon dioxide)

Other Ingredients: Lactose (milk), gum arabic, biotin*.
*Contributes to the maintenance of normal mucous membranes, such as sinuses
and nasal passages.

Allergy Advice:
For allergens see ingredients in bold
Suitable for vegetarians.

Caution:
Do not exceed the recommended dose.
Store in a cool dry place out of the reach and sight of children.
You should tip the tablets into the lid of the tub and then straight into your mouth - homoeopathic preparations are best if not contaminated by handling.