Lectures On Homoeopathic Philosophy (Hard Back) By Kent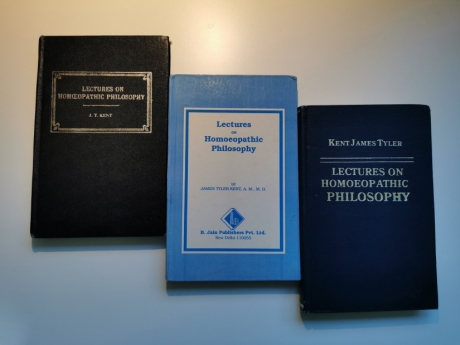 Lectures On Homoeopathic Philosophy (Hard Back) By Kent
Secondhand Hard Cover Copy
By James Tyler Kent
| | |
| --- | --- |
| With Classroom Notes and Word Index | |
The notes on Kent's Lectures are a cornerstone of homeopathic literature that we should regularly consult. Whether talking about particular sections of the Organon or the miasms, the genius of this exceptional homeopath comes across vividly in this book.
The publisher:
Kent still lives through his vast literature. B. Jain Publishers are working continuously to provide classical literature for its readers in the best possible reader friendly format. A commentary by Dr. Harsh Nigam has been added at the end of each lecture which helps in easy understanding of Kent's philosophy.
- Written point wise in easy language.
- A new font and new style has been given to give it a rich look
- Aphorisms have been highlighted to emphasize Hahnemann's theory
- A Word Index has been added for easy reference
James Tyler Kent, M.D. (Born in Woodhull, New York, 1849). He proved many new remedies. He advocated the use of potencies made on the centesimal scale. Dr. Kent introduced the doctrine of; 'Series in Degrees' in the treatment of chronic diseases, Theory of Octaves', 'Law of Vital Action and Reaction'. He laid importance on mind symptom in treating chronic cases. He taught Materia Medica at the Homoeopathic Medical College of St. Louis, from 1881-88, at the School of Homoeopathy, Philadelphia from 1890-99, atHahnemann Medical College and Hospital, Chicago from 1903-09. His repertory which was published in 1897 remains the most sought after book in homeopathy till date. He died on 6th June 1916 but his contribution are immortal.