Homeopathy in General Practice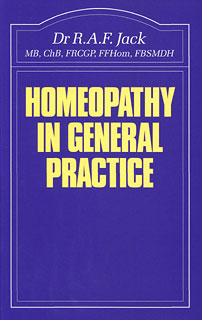 Homeopathy in General Practice
By R.A.F. Jack
A lifetime of experience in NHS practice is offered under the modest title Homeopathy in General Practice. From the detailed presentation of 129 cases one can sense the difficulties encountered when one is faced with the task of combining homeopathy and general practice. Dr Jack has just achieved this feat. His book is a treasure trove for all, students and practitioners alike.
The publisher:
This book is a practical guide to the use of homeopathic medicine over a wide range of the illnesses and conditions that arise in the normal course of general practice. The author demonstrates how homeopathy can be used to great advantage in place of, as well as in conjunction with, conventional medicine.
The book is structured conventionally in relation to the systems of the body, but the supporting analysis of patient management is given in homeopathic terms within the context of each patient's life and personal characteristics. The text is reinforced by the inclusion of a hundred and twenty-nine cases from the author's practice, many of which are described in considerable detail. There are also numerous discussion sections in which he explains his treatment strategies.
Dr Alastair Jack was born in Peebles, in the Scottish borders, in 1920 and was educated at King Edward's School in Birmingham. He did his medical training at Birmingham University, where he was captain of athletics and vice-captain of hockey. After the war he went into general practice in Catshill, near Birmingham, where he remained until he retired from the National Health Service in 1980.
Dr Jack and his wife, who have recently celebrated their golden wedding anniversary, have a close-knit family, with five children, two of whom followed him into his practice. He is a Founder Elder of his local church, where he helped establish a large Sunday school, and has spent many evenings, weekends and holidays with the young people. His strong Christian faith has always been the mainstay in his life.
He has lectured on homeopathy for many years, at the Royal London Homeopathic Hospital, in the Midlands and widely throughout the United Kingdom. He continues in private practice, and enjoys country walks with his family.