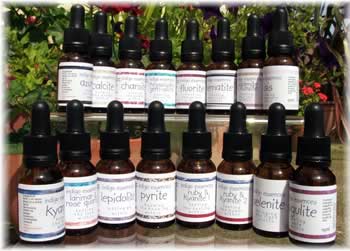 Azurite
Main feelings : fear /closed heart /energy block

This stone is a deep azure blue, with some yellow and green and looks like a map of the world.

Dissolves blocks caused by fear which have made your heart snap closed and helps you find the courage to heal. Opens the back of the heart to let love in again, giving you a great feeling of comfort and peace. Releases the tears behind the fears that stop you from moving on. Eases rigidity in the emotional body and allows energy to flow again.

Comes in a 15ml/1/2oz tamper evident amber glass dropper bottle.