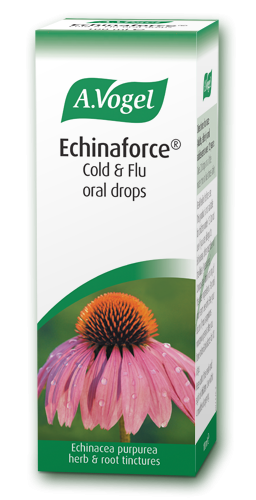 Echinaforce 50ml
Echinaforce® Echinacea drops (tincture)
Echinaforce® is produced using extracts of freshly harvested, organically grown Echinacea purpurea herb and root, picked fresh and used within 24 hours of harvest. The benefit of using freshly harvested herbs has been demonstrated in research - extracts produced from fresh plants contain almost 3 times more active substances compared with those obtained from equivalent amounts of dried herb*.
Echinaforce® Echinacea
Strengthens the immune system
Made from Echinacea purpurea
Fresh herb extract
Dosage of Echinaforce® drops:
Adults, elderly and children over 12 years: 15 drops (0.6ml) of tincture in a small amount of water, 2 to 3 times daily
Do not use Echinaforce® drops or tablets if you are:
Allergic to products containing Echinacea
Pregnant
Breastfeeding
You should also be aware that Echinaforce® Echinacea drops, like all herbal tinctures, contains ethanol (alcohol). Each dose of tincture contains up to 350mg of ethanol - equivalent to 8.8ml of beer (less than a tablespoon) or 3.7ml of wine (less than a teaspoon). If you suffer from alcoholism, the alcohol content of Echinaforce® Echinacea drops may be harmful. If you are in a high-risk group (eg. patients with liver disease or epilepsy) you should consider the alcohol content before taking this product
Keep out of reach and sight of children
Echinaforce ® Echinacea drops are for oral use only.
Do not take more than the recommended dose.