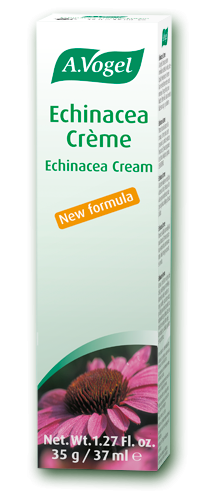 Echinacea Extract
Contains extract of fresh Echinacea
A.Vogel's Echinacea cream contains the extracts of certified organically grown Wild Pansy and Echinacea A vogels own cultivations in Switzerland.
This cream is made from fresh herb tinctures (extracts) rather than dried herb. It uses the same Echinacea extract that is used in our well-known Echinaforce®
Echinacea cream is produced using extracts of freshly harvested, organically grown Echinacea purpurea herb and root, picked fresh and used within 24 hours of harvest. It also contains extracts of freshly harvested Wild Pansy.
A.Vogel Echinacea cream:
Made from extracts of freshly harvested echinacea
Organically grown
No animal testing
Ingredients:
Water, hydrogenated peanut oil, propylene glycol, Echinacea extract, Viola tricolor extract, cetearyl alchol, sodium lauryl sulphate, sodium cetearyl sulphate, silver sulphate.
Directions for Use:
For external use only. Avoid contact with eyes. Contains peanut oil.