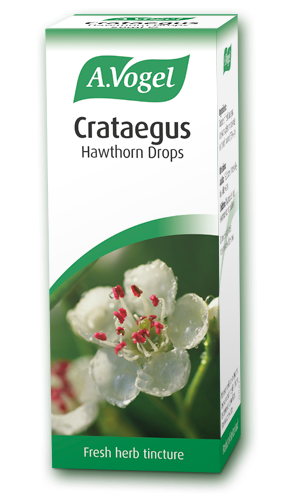 Crataegus (Hawthorn) 50ml
Extract of freshly harvested Hawthorn (Crataegus) berries
The use of Crataegus or, as it is more commonly known, Hawthorn is shrouded in folklore and tradition. Many stories prevail about Crataegus and its deep red fruit borne on spiky shrubs are familiar to many, particularly during the autumn. Crataegus berries are edible and during World War I, Crataegus (Hawthorn) seeds were ground and used instead of coffee. In addition, Hawthorn leaves were used instead of tea and tobacco.
More crucially Hawthorn berries have been used as far back as the 15th century.
A.Vogel Crataegus tincture:
Made from Hawthorn berries
Fresh herb extract
Botanical food supplment
Ingredients:
Tincture of fresh Crataegus oxyacantha (Hawthorn) berries, extracted in alcohol (50%V/V)
Directions for use:
Adults: 15 - 20 drops three times daily in a little water.
Children: This product is not recommended for children.
Keep out of reach and sight of children